Plastic Frame Dog Tags & Cat Tags
Plastic Framed Dog Tags
All Pet Tags SHIP FREE to addresses in the US
Our very popular plastic frame dog tags feature a durable, colorful plastic base that creates a pet tag frame around the engraved ID inserted in the middle! Our plastic frame dog tags come in a variety of shapes, colors and sizes to suit any dog.  Choose the shape and color of the frame and then mix and match with your choice of engraved insert; stainless steel, polished brass, or ivory plastic. This unique and durable dog tag was invented here at our factory and cannot be purchased anywhere else.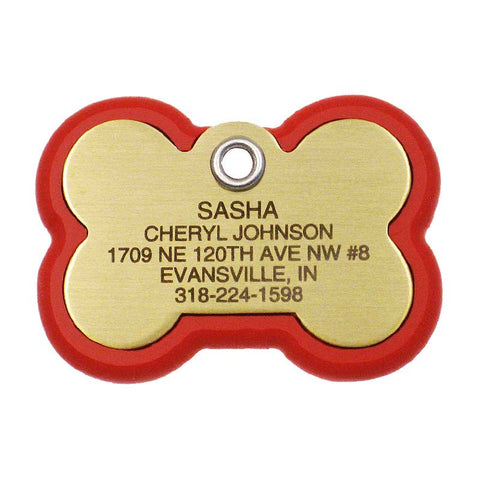 Bone Frame Tag
$12.95 USD
Heart Frame Tag
$12.95 USD
Round Frame Tag
$12.95 USD
These plastic frame dog tags let you design a look that matches your pet's mood or personality. They're a favorite of many customers. The reinforced design offers a rugged dog tag while the 2-tone color scheme allow you to create a look from flashy and hard to miss neons to a more elegant, understated dog tag depending on your dog.

Basically an ID tag within another dog tag frame, it was originally a test to see if a protective, plastic border around our metal dog tags could make the engraving last longer by reducing the rubbing and jangling against other custom dog tags. It worked! The engraving lasted longer and it was quieter than a metal dog tag. And as a huge bonus, we all really liked how the new creation looked. So did many of you and the plastic frame dog tag very quickly became one of our most popular and most durable dog tags.

These custom dog tags come in three sizes for each of the pet tag frame shapes, bone, round, or heart. Please note the tag dimensions on each listing as these durable dog tags tend to be larger than our other dog tags. 

The engraved tag is available in stainless steel (metal), polished brass (metal), or ivory plastic. The solid plastic pet tag frame is available in the following colors: Navy Blue, Red, Black, Burgundy, Green, Neon Pink, Neon Orange, Neon Yellow, and Neon Green.

If you're looking for durable dog tags, click on the pictures above to see all of the available colors! And we recommend adding our lost pet recovery services by Owner Alert in case your pet ever gets out and you can't be reached.

And just for fun, here are some of our customers' dogs modeling their plastic frame tags: 



Bella is just about the cutest thing we've seen! She's wearing the red and stainless heart frame tag.




Tazer is having playtime and showing off the black & stainless bone frame tag.




Here's Moxie, doing what we wish we were doing right now – sniffing the ocean air!




Here's Chanel, showing off a neon pink heart frame tag. We love how she color coordinated it with her tongue!




Molly is posing for a photo during her daily walk to Victoria Peak in Hong Kong.
Secure ordering and payments provided by
Top