Heart Pet Tags
All Pet Tags SHIP FREE to addresses in the US
If a Heart Pet Tag is just right for your pet, we've got a size that's sure to fit, from the biggest Newfoundland needing a large, heart dog tag down to a little tabby kitten getting her first Tiny heart cat tag.  We may be the only company offering such a tiny tag!  Click here to see a size comparison between a Tiny Tag and our regular "small" size.
Heart Jewelry Tag
$12.95 USD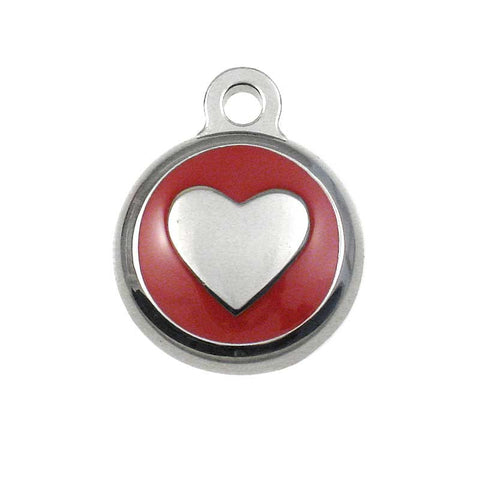 Tiny Heart Jewelry Tag
$12.95 USD
Both of these tags are part of our enameled jewelry tag line. The jewelry tags are some of our most popular tags and the heart pet tag is one of the top selling designs. People love their pets! These shiny metal tags have a durable nickel finish highlighted with a bright "enamel" filling (actually a colorful, high-tech, ultra tough resin) around the design. Most of our enamel jewelry tags come in 11 different colors. From the front, it's a stylish heart dog tag but it's the backside of the tag does the work- we laser engrave the metal with easy-to-read, black writing so that your pet's information is always readable when you need it. The "Heart Jewelry Tag" is available in two sizes, Large and Small. The "Tiny Heart Jewelry Tag" is even smaller than small.

Designed as a smaller heart cat tag, our Tiny tag is perfect for any smaller pet, dogs included. We've heard about ferrets and rabbits wearing them too! About the size of a penny and not weighing much more, it's 3/4 of the size of our "small" tags. Even though it's so much smaller, we are still able to fit 3 lines of readable pet information laser engraved on the back. The Tiny Heart Jewelry tag is available in red, blue, pink and black.

To see even more heart pet tags, click the search magnifying glass at the top and type in the word "heart". You'll see many more choices in our other pet tag lines such as reflective plastic hearts, glow in the dark hearts, brass hearts and our very unusual heart collar tag. Whatever tag you choose, your pet will be protected, look very sharp… and love you right back!

Don't miss out on the added protection of our very own Owner Alert pet recovery services - we'll add a hotline to your pet's tag in case you're not reachable.
Secure ordering and payments provided by
Top