Specialty Plastic Pet Tags
All Pet Tags SHIP FREE to addresses in the US
Our specialty pet tags are traditional, durable plastic tags with your info engraved on the back side, and a graphic design engraved on the front. Specialty plastic tags are designed to quickly identify pets with medical conditions and service dogs. 
Medical Alert Tag
$12.95 USD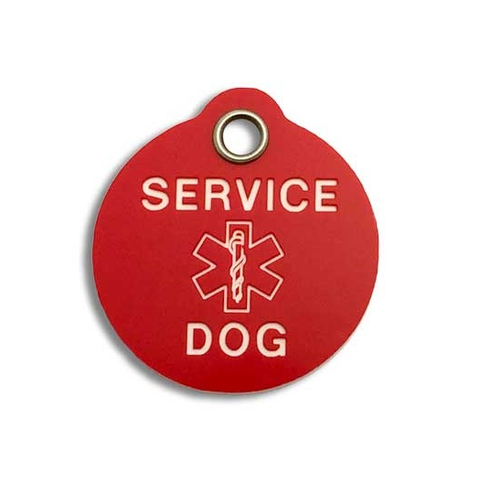 Service Dog Tag
$12.95 USD
Smiley Face Tag
$12.95 USD
These hard to find tag designs are just what you've been looking for.

If your pet has a medical condition that may require special attention, our Medical Alert tag will let people know. Pets requiring critical medication as well as blind or deaf pets could benefit from wearing a specialty pet tag in the case of a situation where someone is trying to help your pet. If lost or hurt, letting them know that your pet requires special attention could make a huge difference in how your pet is treated.

Our Service Dog tag quickly identifies your pet as specially trained and with a job to do.

Both the Medical Alert and the Service Dog tags are available in Red in three sizes; small, medium and large tags. The engraving is white with the design on the front and your custom information engraved onto the back of the tag.

Also part of our specialty plastic tag line is the Smiley Face tag. It's just for fun but made the same way as the other tags. The Smiley Face is, of course, available in Yellow and in three sizes. Up to five lines of your personalized information is on the back.

These thick plastic tags are deeply engraved with easy-to-read engraving that lasts for years! Our plastic specialty pet tags are known for their long life and have been a staple of our business since we began in 1988. They are lightweight and durable, and quieter than other hang-down style pet ID tags. Constructed of 1/8 inch thick plastic, these LuckyPet tags are thick and sturdy, yet still quite light weight. Each tag has a metal grommet that reinforces the hole, keeping it from wearing through for many years of wear. A split ring is included for attaching your tag to your pet's collar.

For the ultimate protection, add our Owner Alert lost pet finder service to your pet's tag.

And just for fun, here are some of our customers' pets wearing our specialty plastic tags:



Teta is relaxing and showing off her yellow smiley face dog tag.




And here is Annabelle! She is actually wearing the service dog tag because she is a service animal. The tag is a little hard to see in the picture but we wanted to show it anyway. Horses can wear pet tags too!
Secure ordering and payments provided by
Top