Custom Paw Print Pet ID Tags
All Pet Tags SHIP FREE to addresses in the US
Once you've decided that a custom paw print pet tag is right for your pet, you have a couple more choices to make; you can upgrade the metal to stainless steel for a solid, near bulletproof paw print ID tag or if you have a very small pet, you can choose our Tiny version, smaller than a small tag! You can see some comparisons below.
Paw Jewelry Tag
$12.95 USD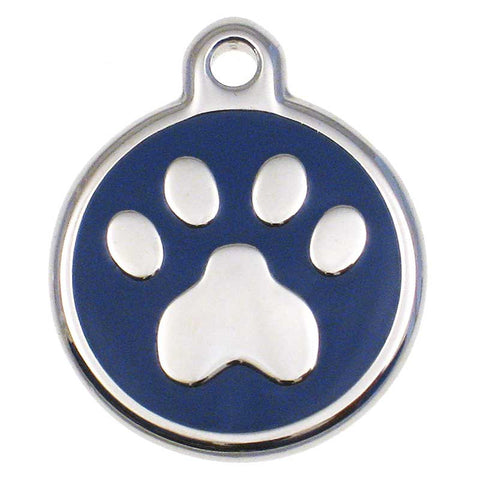 Stainless Paw Jewelry Tag
$15.95 USD
Tiny Paw Jewelry Tag
$12.95 USD
Our custom paw print pet ID tags are a favorite and one of our top selling tags. Each pet tag is personalized with your pet's information, which is laser engraved onto the back side of the tag.

The Paw Jewelry Tag is our classic design. It is cast of a zinc alloy, finished with shiny nickel plating, and the design then filled with brightly colored enamel on the front in a wide variety of colors: Blue, Red, Green, Yellow, Black, White, Mint, Lime Green, Light Blue, Pink, and Purple.  It is available in sizes small and large which suit most cats and dogs.



In this picture, you can more easily see the differences between the different versions of our paw print ID tags. Our regular enamel tags have a curved top and are available in 11 colors. Our stainless steel tags are our toughest tags.  They're flat, a bit heavier and available in fewer colors.
The Stainless Paw Jewelry Tag is the solid stainless steel version of our paw print pet ID tag. It is machined from flat stainless steel and mirror polished before brightly colored enamel is filled in around the design on the front. Stainless paw print tags are also available in sizes small and large, and in colors Red, Blue, Pink and Black.
The Tiny Paw Jewelry Tag is a cute and tiny version of the classic tag. It's available in one tiny size that measures ¾-inch in diameter, about the same size as a penny. It's the perfect custom paw print pet tag for the tiniest pets, like kittens, petite cats, teacup and toy dog breeds, or any pet that prefers a small tag. These small engraved pet tags are available in the colors Red, Blue, Pink, and Black. 

In this comparison picture, you can see the difference between a Tiny size tag and our normal "small" size enamel tags which are about 1" in diameter. Tiny tags have limited room for your engraved info.

Below are some models showing off our various paw print ID tags: 



The Tiny Paw Jewelry Tag fits perfectly on little Samson!




Gary the cat is looking sharp while wearing a small lime green Paw Jewelry Tag.




And here we have Maverick! He looks stunning, and his large blue Paw Jewelry Tag looks good too.





Employee: Yan H
Favorite Tag: Lime Green Paw Jewelry Tag
Pet Name: Joey


Joey is the adorable pup of LuckyPet employee Yan H. Yan loves the lime green paw enamel tag on Joey because it suits his bright personality and is always draws attention.
Be sure to combine your dog's tag with our
Owner Alert pet recovery services
, for an added level of protection in case your dog ever gets out!
Secure ordering and payments provided by
Top